Location: Snohomish, WA
Dante – Hypo Hog cross boa; medium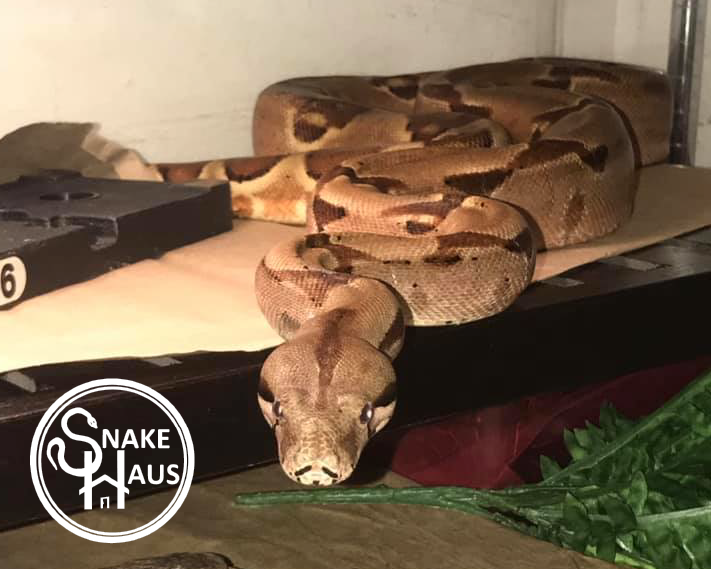 Hypo Hog Cross Boa – Very food motivated and outgoing. Dante is so handsome!
Adoption fee $200
---
---
Obo – Common boa; small
This little boa is gorgeous but oh so hungry! She is undergoing hook training at Snake Haus and learning fast.
Adoption fee $60
---
Elliot– Common boa; medium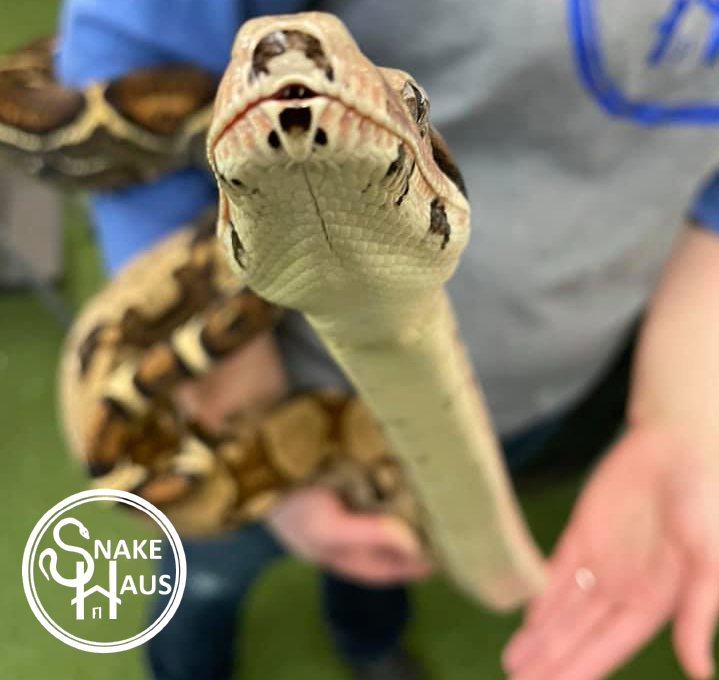 This is such a good looking boa! His markings are so clean. He is a very good eater and has taken well to hook training. We are confident that he will make a good pet for someone.
Adoption fee $60
---
Raven– Common boa; large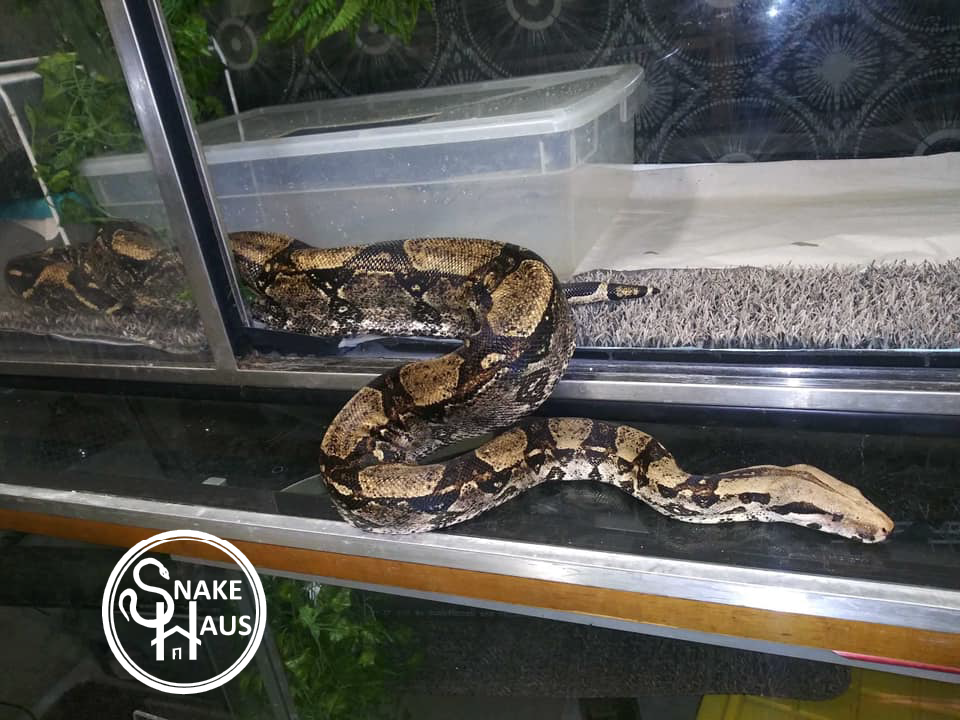 This beautiful girl is near and dear to our hearts but she is so well behaved that we feel we should make her available for some to take her in as a beloved pet. She has participated in multiple education programs over the years and is so much fun. We will miss her when she finds her forever home!
Adoption fee $100
---
Marion– Columbian red tail; extra large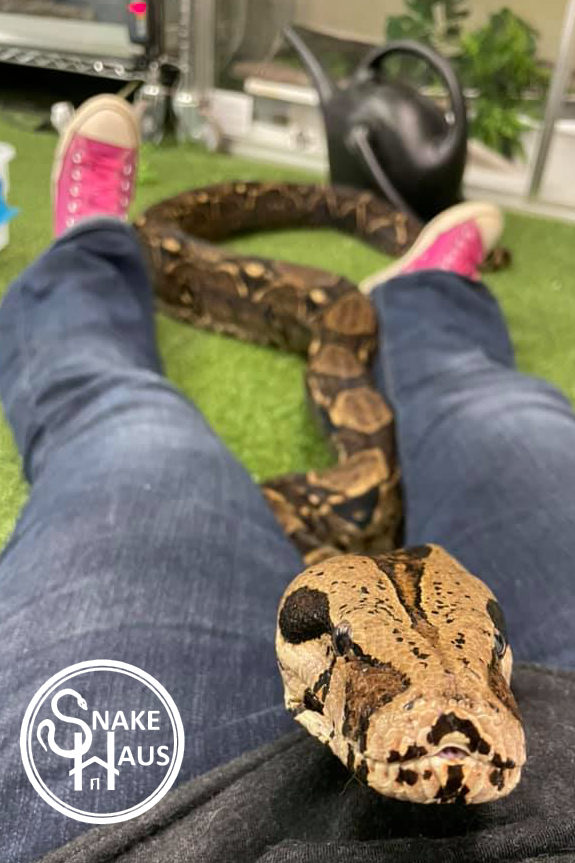 This beautiful lady is one of our largest boas. She was rescued from an abandoned house in King County. If only she could talk we're sure she has some excellent stories! Despite her sad state when found, she is a very calm and well behaved boa. Her personality is that of a mellow old lady. Experienced home needed simply due to her size.
Adoption fee $200
---
Epic– Common boa; extra large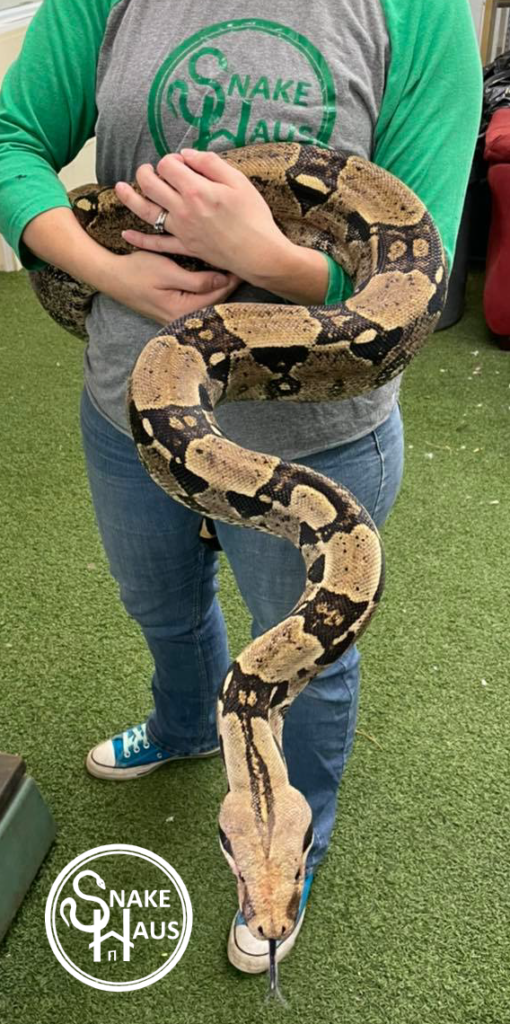 Epic is sooo much fun. She is so social she's downright silly. She is also a special needs snake. Epic came to us with severe facial damage due to long term untreated sinus infections. Her husbandry in her previous home was atrocious. Remarkably most of her visible abnormalities have resolved and she is doing very well. We worry that she may struggle with sinus/nasal problems in the future however she has been doing very well with no symptoms for over a year now. Interested parties should know we can't quite predict her health status long term. She is giant, quite adventurous, and absolutely hilarious!
Adoption fee $200
---
Skinny Pete – Common boa (bci); extra large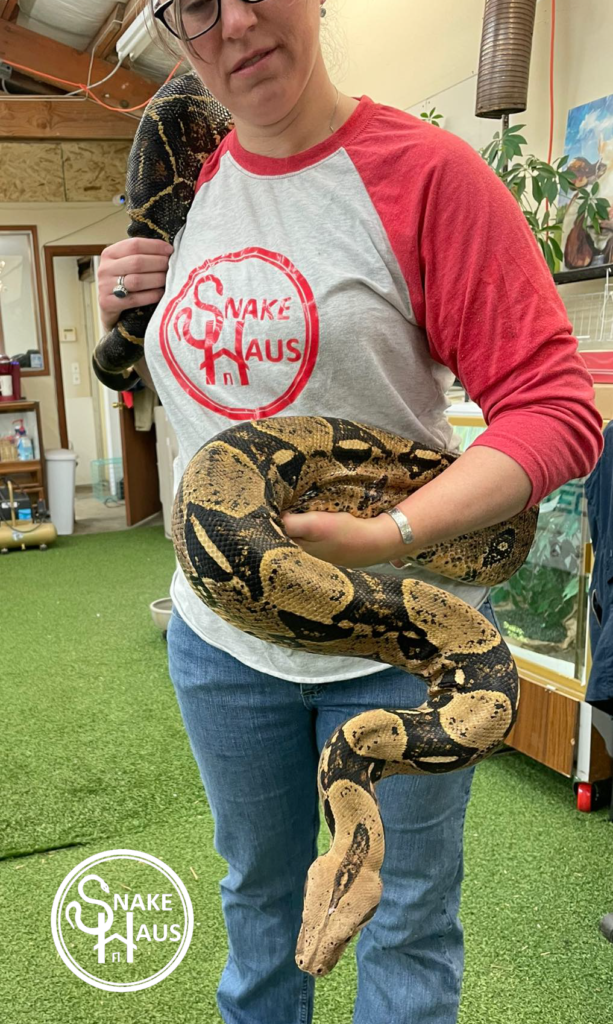 Male Columbian Boa – Skinny Pete has been on a diet since arriving at Snake Haus and is finally getting healthy. He has settled into routine here at Snake Haus and is now doing quite well. His size requires two people to be present for handling and dictates that he will need to be adopted into a home with an experienced keeper.
Adoption fee: $100
---
Vogel – Kahl Albino Common boa; large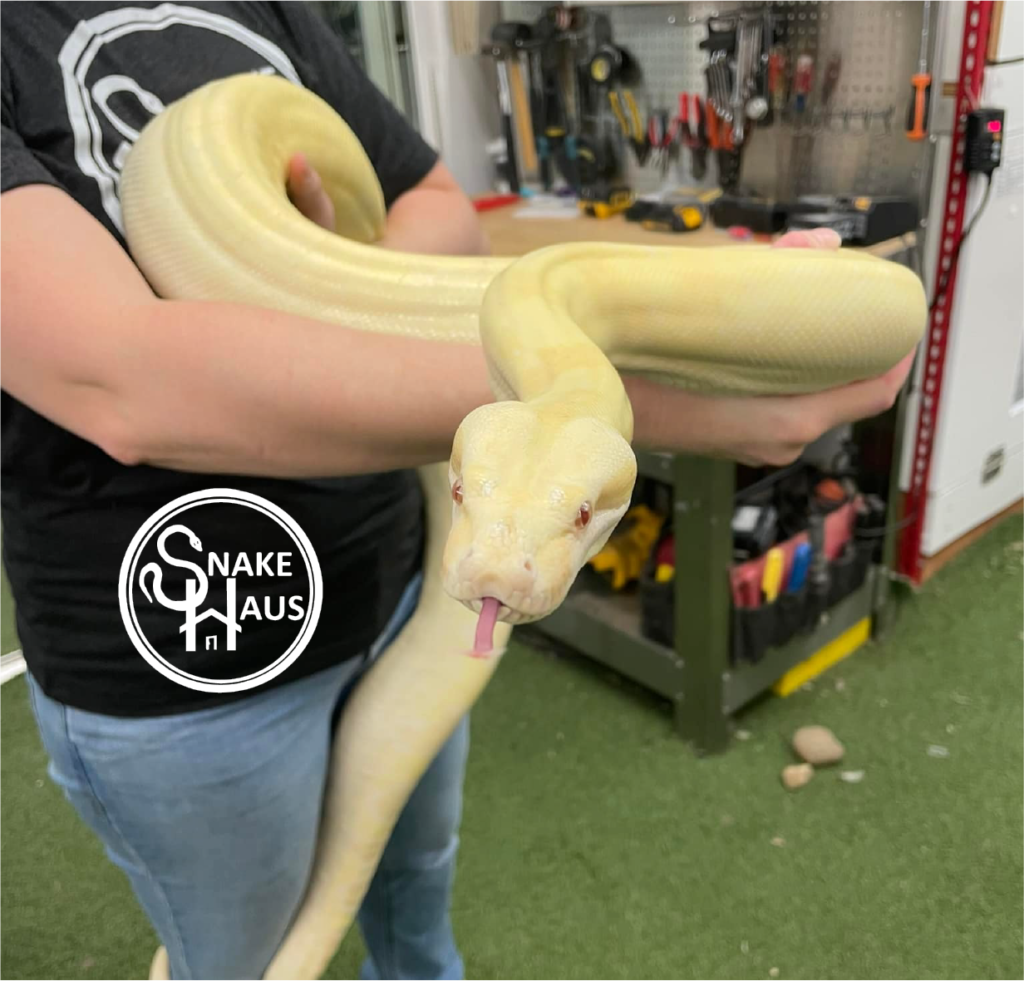 What a beauty this one is! Vogel was born in 2014. She has some decent size to her! Her albino genes give her a wonderful lemon yellow color. She is a bit shy but well behaved anyway!
Adoption fee $300
---
Constantine – Kahl Albino Common boa; large
This big fella is a bit of a troublemaker. Outgoing and curious, he tends to get into stuff when out for exercise so we have to work a little harder to keep track of him than the other boas. Constantine suffered from a sinus abscess last year that got really bad and required some minor surgeries. Despite that stress he remains fearless and silly. He's pretty fun to hand out with!
Adoption fee $300
---
Elliana – Common boa; medium size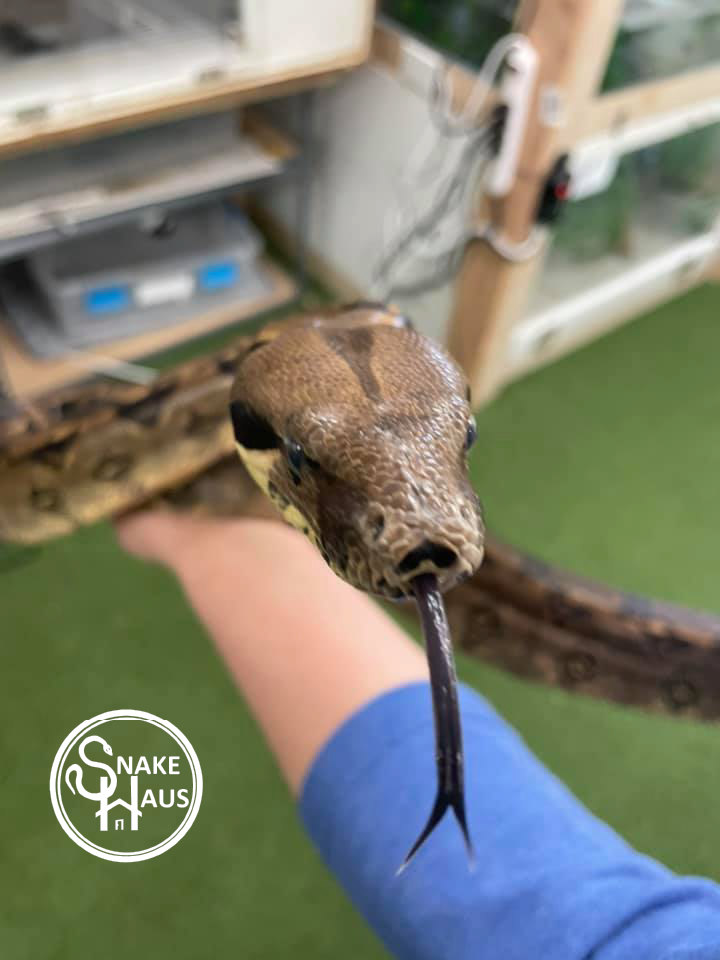 Elliana is an active and outgoing young lady. She is super hungry but understands hook training quite well. She is such a curious girl we're sure someone will have tons of fun with her as their pet some day.
Adoption fee $60
---
Cymbal – Central American boa; dwarf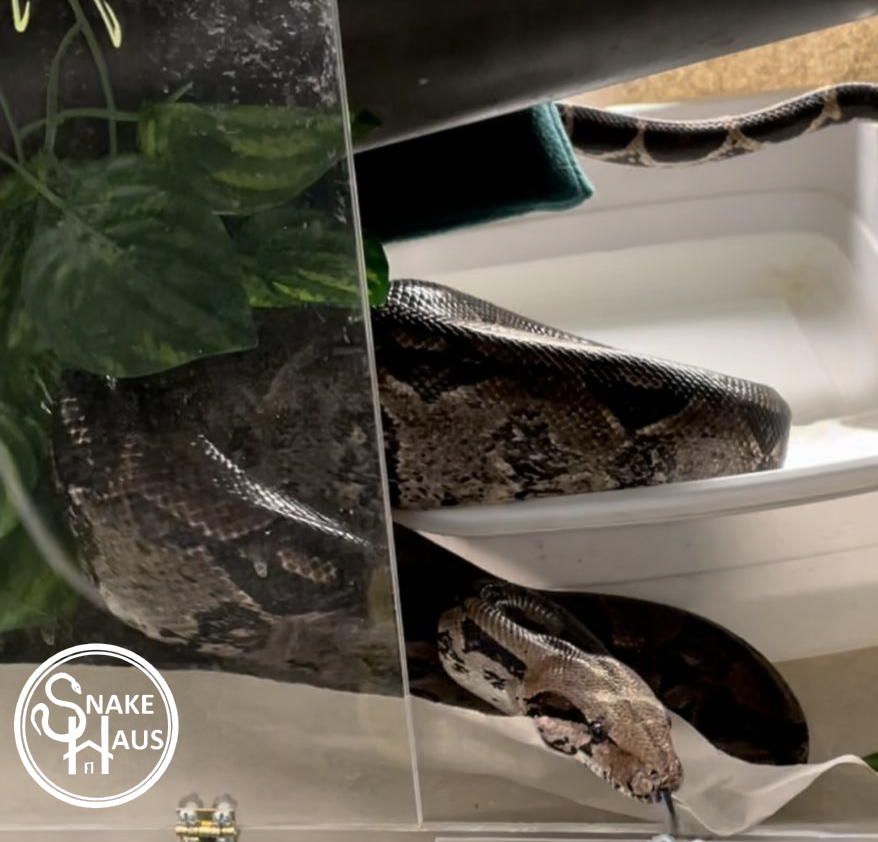 A central american boa that is the perfect size for someone who wants a boa but not a giant!
Adoption fee $200
---
Indie – Caramel Jaguar Irian Jaya carpet python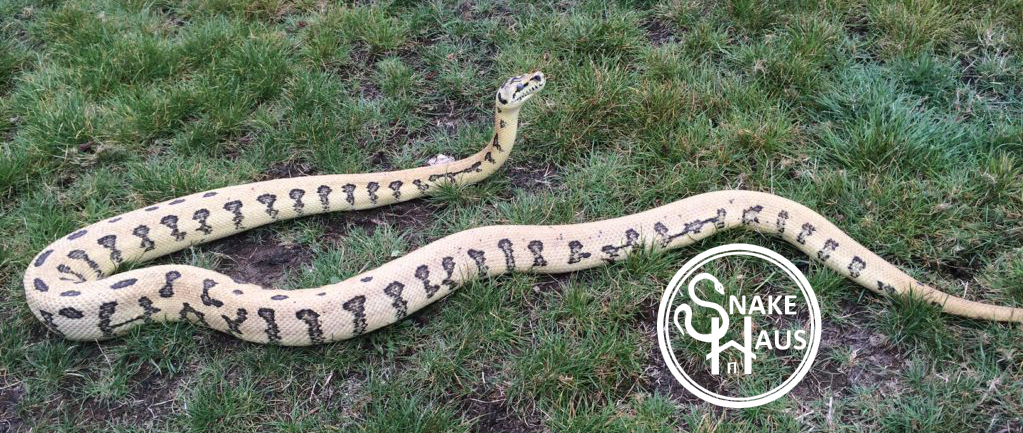 Indie is one heckuva a handsome fella! He is very social and loves to eat. He's simply perfect!
Adoption fee $200
---
Aria – Jungal carpet python
This little pip squeak is a typical juvenile carpet python. She is wiggly and hungry! After spending the last year with us undergoing hook training she is starting to figure out how to behave herself.
Adoption fee $200
---
Joan Jett – Ball python
Joan was found wandering alone in a park in Seattle. A good samaritin brought her to a shelter who then called us. On arrival she has a severe jaw infection and underwent several surgeries here at Snake Haus. She still has a mildly abnormal shape to her face but it doesn't bother her at all. She LOVES quail and is very good for handling.
Adoption fee $60
---
Newt – Yellow Anaconda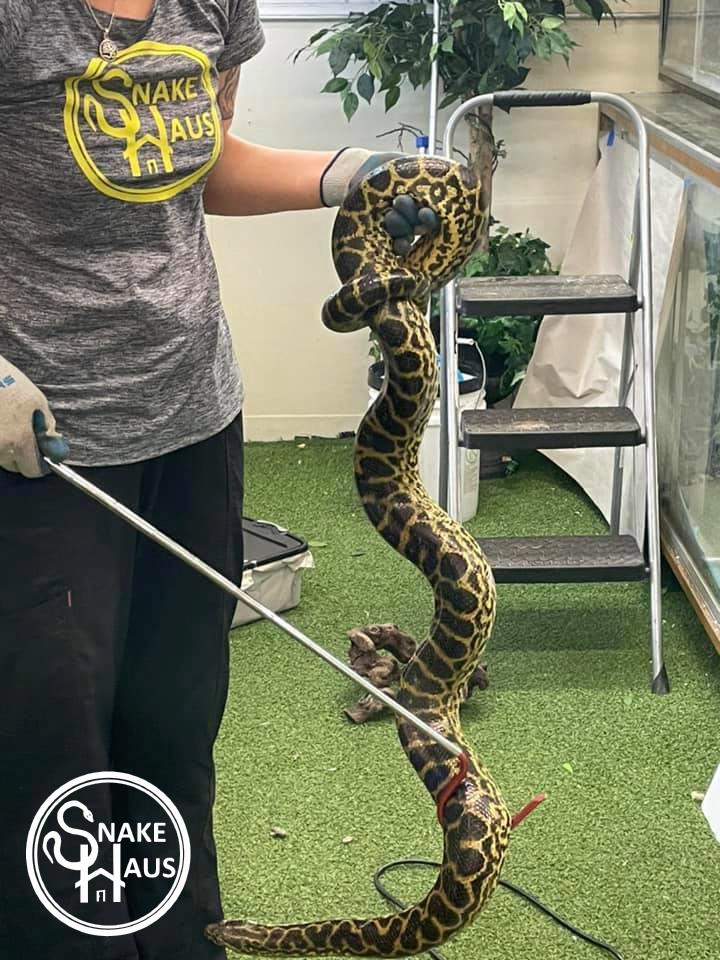 A young Yellow Anaconda that is learning how to stay calm around people. He has been undergoing hook training and socialization at Snake Haus and is learning fast. He still does not like to be handled but is calming down and allows us to clean and work around him when inside his enclosure. Expert level adopters only!
Adoption fee $300
---
Piccolo – Visual normal w/hets Reticulated python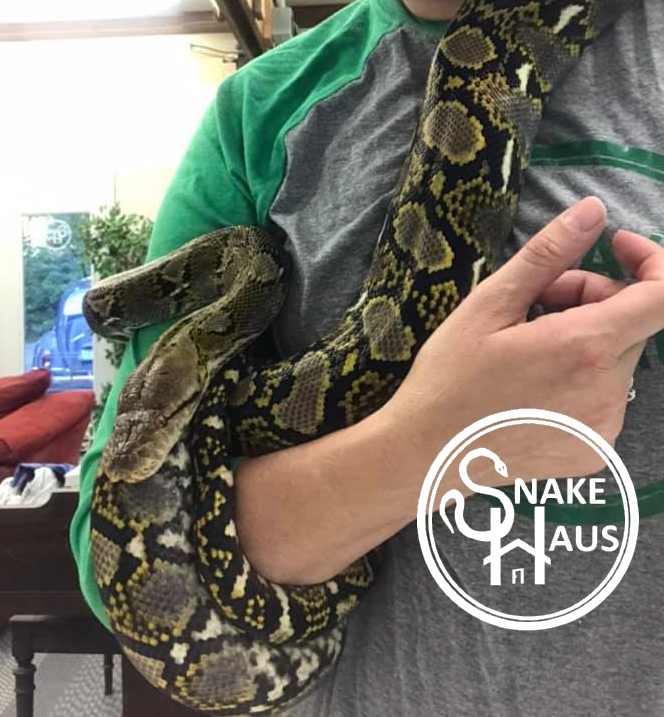 Piccolo is a visual normal with some hidden genes that change his colors a bit. He was adopted and then returned to Snake Haus due to an unplanned move. He can be a bit hormonal at times but overall is a very good snake!
Adoption fee $200
---
Seymour – White Albino s.d. Reticulated Python
ADOPTION PENDING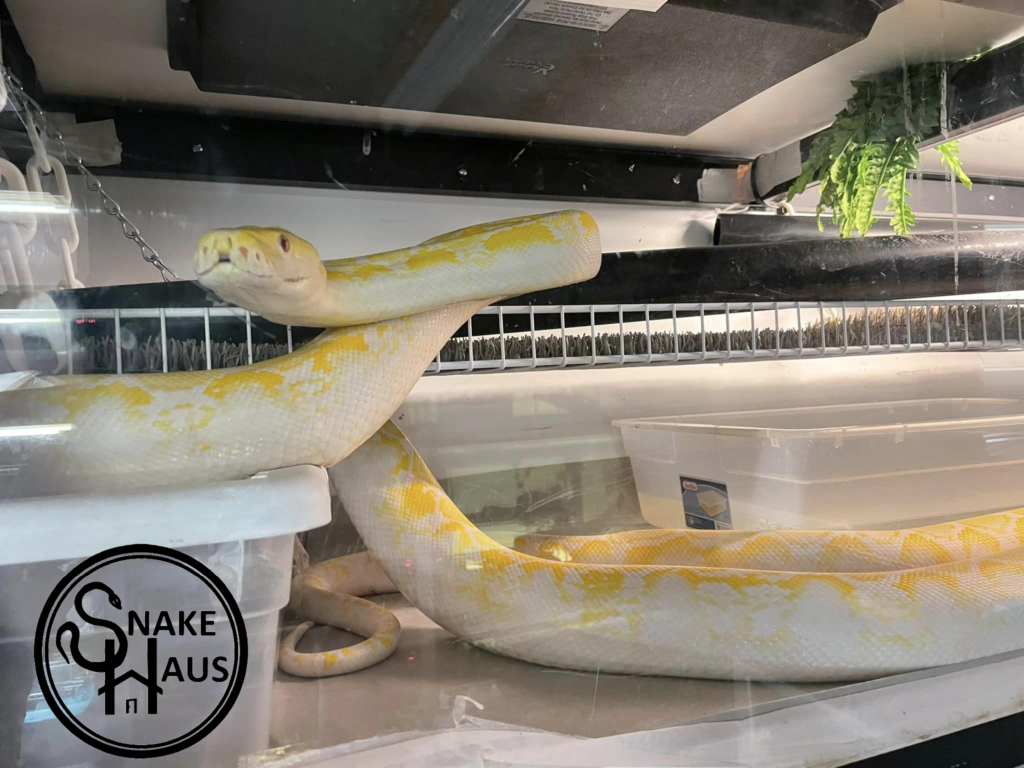 We don't know how much dwarf precentage Seymour has in him but he is definitely much smaller than other retics of his age. Having said that, keep in mind he is a retic so is still well over 10 feet long. This is a shy individual who startles a bit during handling and has the typical retic food drive. Expert home needed.
Adoption fee $300
---
Story – Tiger Reticulated python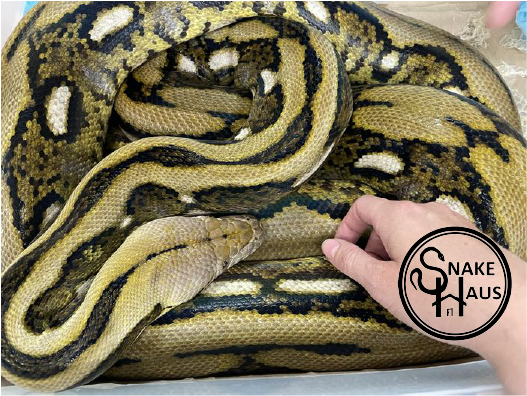 Young adult tiger reticulated python with a heckuva food drive! That's normal for retics though. She is a bit shy but is getting better for handling. Story is growing quickly and we expect her to eventually be quite large. Expert keepers only.
Adoption fee $200
Orellana– Abino Burmese python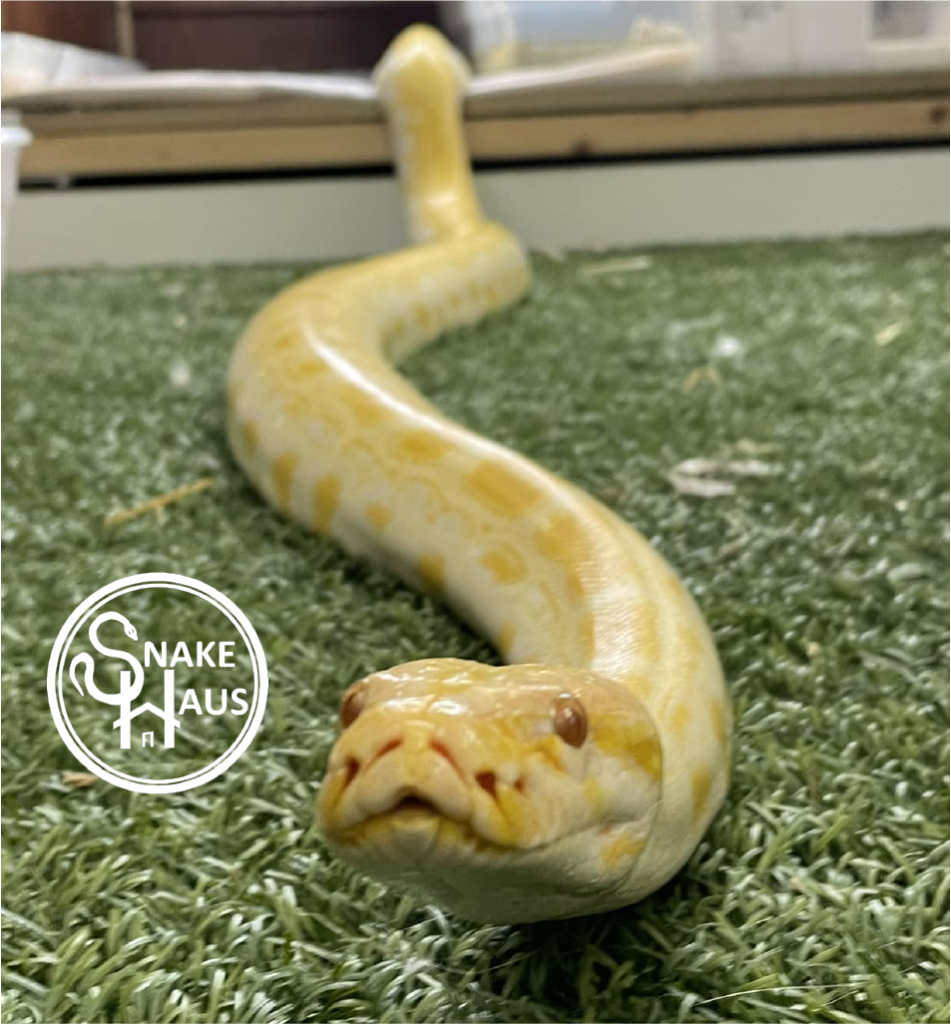 This kiddo came to Snake Haus as a baby. She has been adopted once and returned already due to unfortunate family circumstances making it difficult for her owner to provide consistent care. Orellana is super good already for her age and has attended educational programs with us. We will continue to use her for teaching if she stays with us simply because she is so good! However if we can find a long term loving home for her that would be ok too.
Adoption fee $200
---
Sigel – Abino Granite Burmese python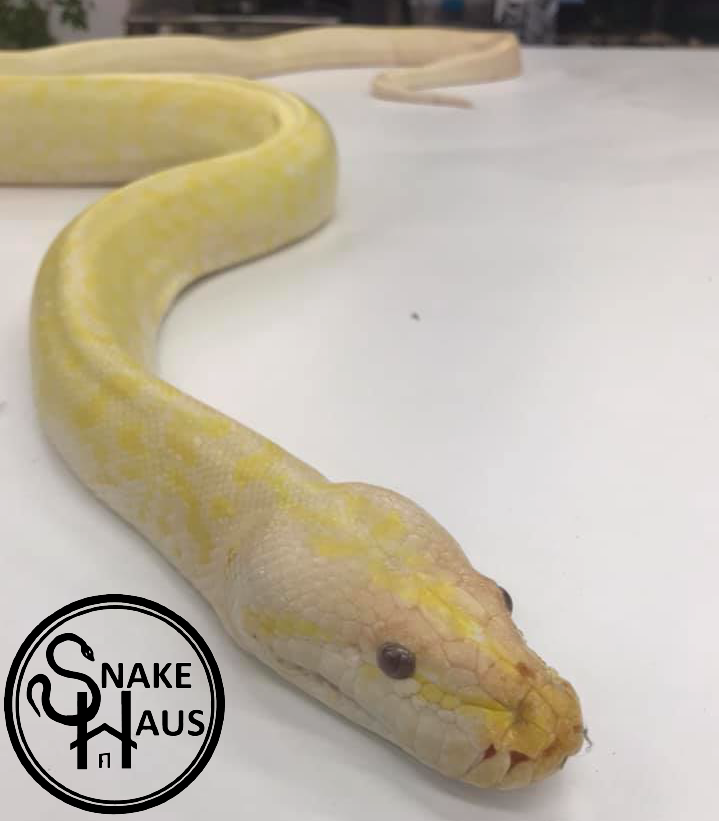 Sigel is a special needs snake. He was sent to us from a zoo for treatment. He's been through 3 surgeries for stenotic nares but they all failed. His nose is totally blocked because both nares are scarred closed which causes his to breathe through his mouth. We made the choice long ago to stop pursuing treatments because he is happy and eats fine. Further surgeries are not likely to be successful and are extremely stressful for him. He would be allowed to go to an adoptive home given the right circumstances. Interested parties must be aware of the potential for further health issues with Sigel and choose to love him despite his challenges.
Adoption fee $300
COMING SOON
We have several animals in quarantine that may become available once cleared. Availability pending quarantine and behavioral evaluation.
Flute – Common boa; small
Flute was very sick when she came to us. After many months in our ICU she is now healthy and finally putting on some healthy weight. We couldn't tell how gorgeous she was when she arrived but wow she sure is a stunner!
Adoptioin fee $60
picture coming soon
---

Conga – Common boa; medium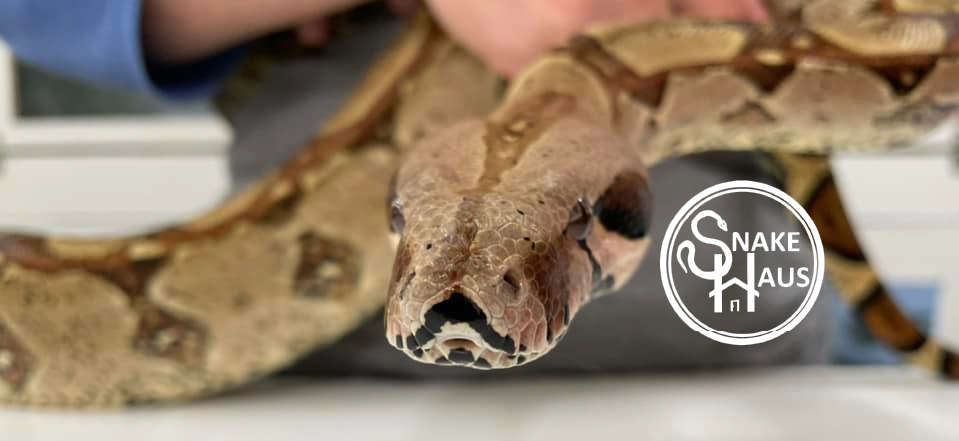 Conga has a very slight facial deformity overlying her left sinus. We are waiting to see if it progresses before listing her as available for adoption.
Adoptioin fee $60
---

Bongo– Common boa; small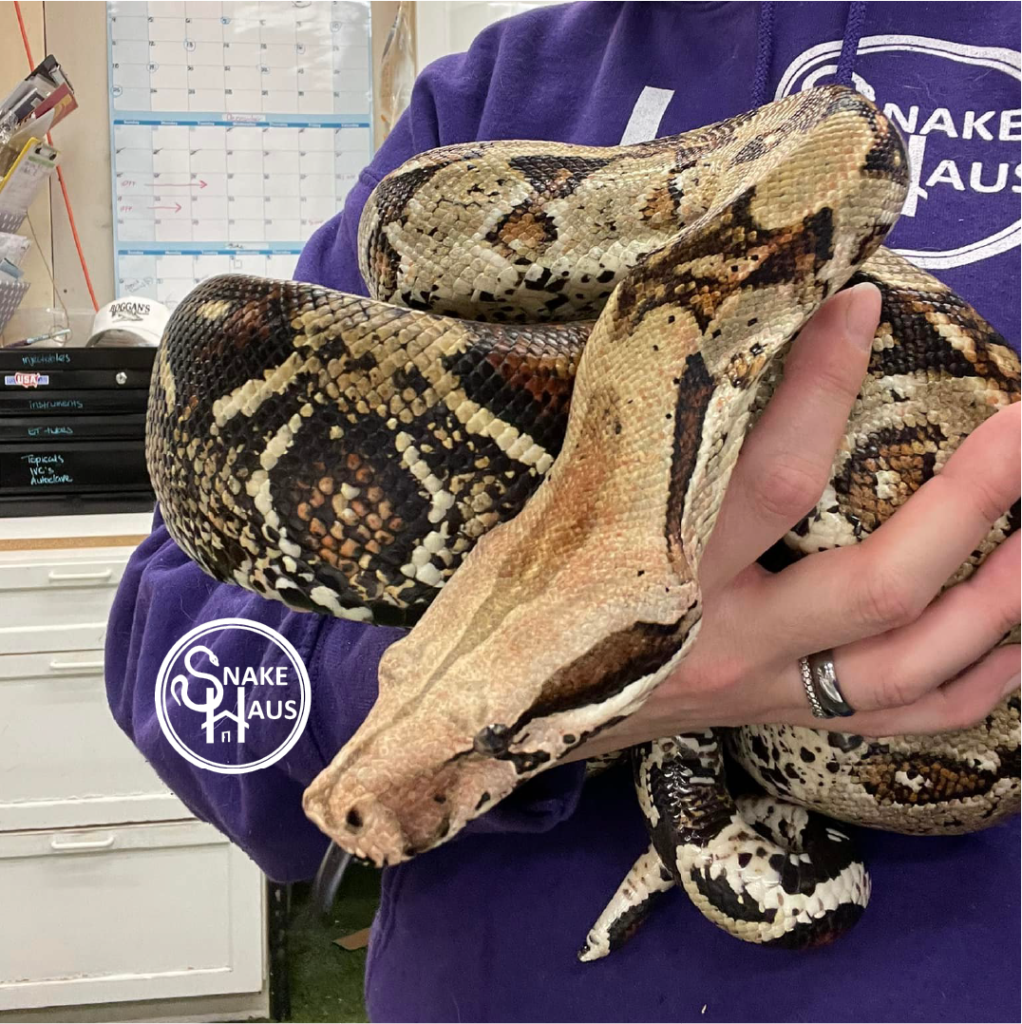 Bongo has cleared quarantine and is now in the Snake Haus boa room undergoing behavioral evaluations and training before being listed as available.
Adoptioin fee $60