There is so much to learn!
This is where we will try to share as much helpful knowledge as possible. The majority of the topics covered here are the answers to our most frequently asked questions. Here on the Snake Haus website we can go into great detail so that people can better understand and achieve their goals.
Let's remember there are many different ways of doing things. This includes different techniques for keeping reptiles in captivity. We strive to highlight best practices and share ideas for what works well, and what to avoid. Some points, particularly about husbandry, are absolutely vital. Others are our preferences for our specific needs: Maintaining a large collection and managing animals with health and behavioral problems. Not all, but MOST of the animals at Snake Haus are here due to significant neglect, or simply ignorance. When working with animals in need, every small detail counts. The Snake Haus director, Dr. Sara Mayes, is known for being very detailed and picky about how she handles and cares for her animals. Hopefully you can learn some of her tricks so that YOUR animals may benefit as well!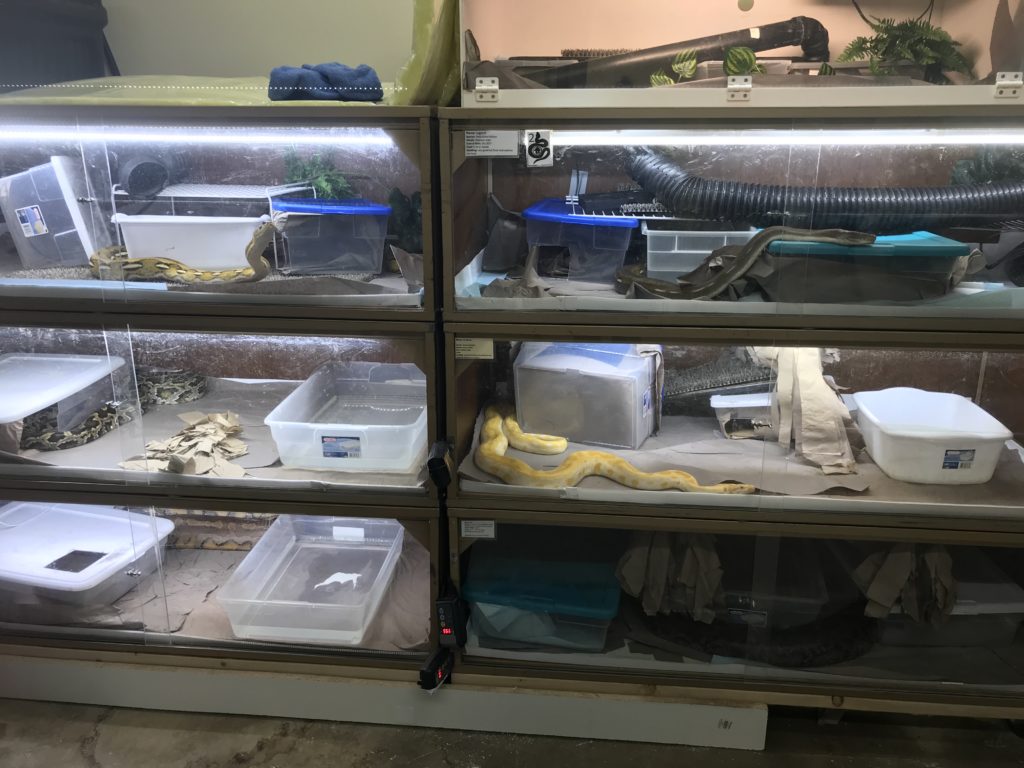 If you have questions or suggestions about a topic you want see here, or one you would like us to add, please feel free to ask by visiting the Questions & Answers page.
Or you can go to the Contact Us page to leave a comment.
Snake Haus Education Topics:
Enclosures: see different options for enclosures including how to build your own and how to set them up
Husbandry: details on how to provide healthy stable environment for your pet snake
Heat Tape Safety: learn about how to properly use heat tape in enclosures
Snakes in Tanks: learn why we do NOT recommend screen top aquariums for snakes
Body Condition Score: learn how to accurately tell if your snake is over or underweight.
Genetics: learn about how genetics, color morphs, and breeding
Size Matters: read about giants
Scale Counts: learn a tool for identifying subspecies in boas
Handling techniques: learn about snake behavior, body language, and helping techniques for handling pet snakes
Feeding pet snakes: watch videos and learn safe feeding techniques
Case Reviews: read about some of our more difficult medical cases
Lectures: watch some of our education lectures that have been recorded in the past
Public Events: see some of the public events and community activities we've done in years past
Links & Resources: find web addresses for many resources we think you might find helpful
Facebook: visit the Snake Haus facebook page to see our daily posts; there's a HUGE amount of info there!
---
---
Follow safe handling guidelines
There should be an extra person for every 3 feet over 6 feet of snake.
Always use a hook first when reaching into an enclosure or holding bin. –Do NOT crowd the animal!
Ask the Handler for permission to touch.
Stay away from the head. Do not pet the head!
Do not stand directly in front of the head.
Approach from below if you are in sight of the animal.
---