We have several animals that could be adopted out to the right home. You will be asked to provide photos of your enclosure, as well as complete an application and adoption agreement. This helps us get to know more about you and ensure that our animals are going to a good home and will not end up back in rescue.
We are happy to coach you through building and setting up an enclosure as well as help you choose the right animal for you and your family.
LOCAL ADOPTION ONLY – Washington and Western Idaho; we do not ship animals.
Snake Haus adoption fee differs according to the type of animal.
Our goals are to find excellent long-term homes for all snakes that are in need. Unfortunately, the color and size of some of these animals changes their worth in the eyes of many pet owners. Individuals with special genetics are often desired more than the normals. Yet breeding project produce far more normals.
We have chosen different adoption fees for animals with special genetics, or size, in an effort to help ensure these animals all have a fair chance at adoption.
$60 – Normal smaller species
$100 – Significant adult size (large normal boas, retics, or burms)
$200 – Special genetics: color morphs or dwarf species
$300 – Exceptionally rare or special individuals
Adoption fees and donations can be paid on the donation page.
---
Hypo Hog Cross Boa – this little dude has a bit of a 'tude but he sure is handsome!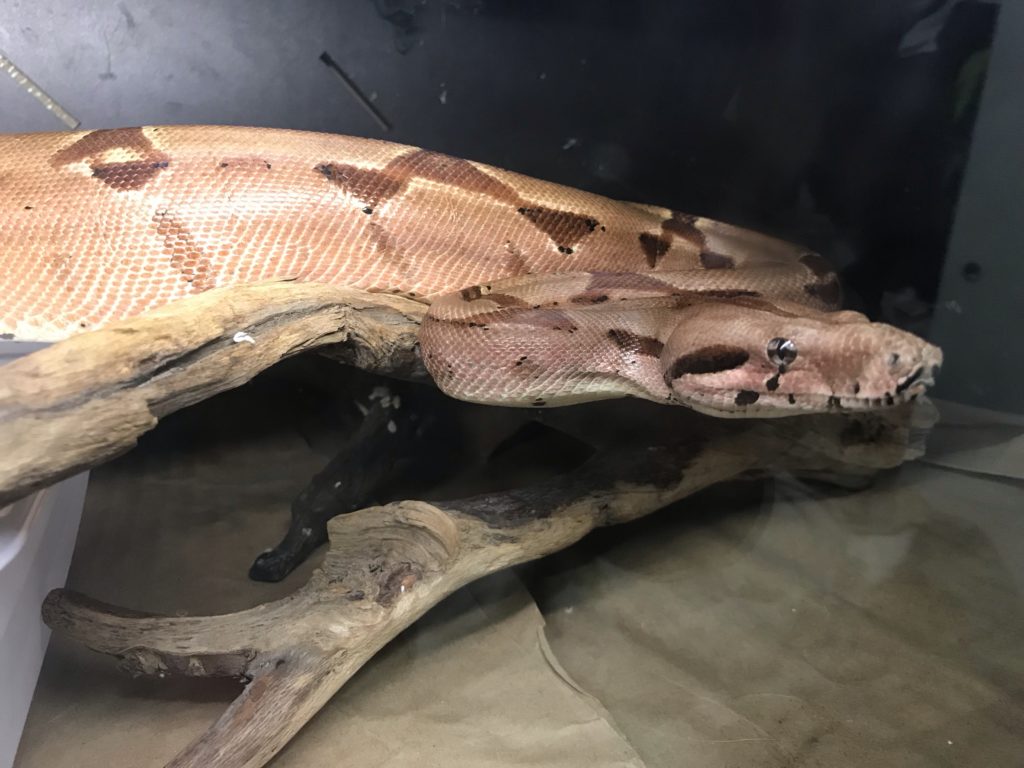 Adoption fee $200
---
This beautiful girl is near and dear to our hearts but she is so well behaved that we feel we should make her available for some to take her in as a beloved pet. We will miss her when she finds her forever home!
Adoption fee: $100
---
Male Columbian Boa – Skinny Pete is currently on a diet. He still needs to lose a huge amount of weight but he has settled into routine here at Snake Haus quite well. He does have some mild defensive behaviors so he will need to be adopted into a home with an experienced keeper. His size requires two people to be present for handling.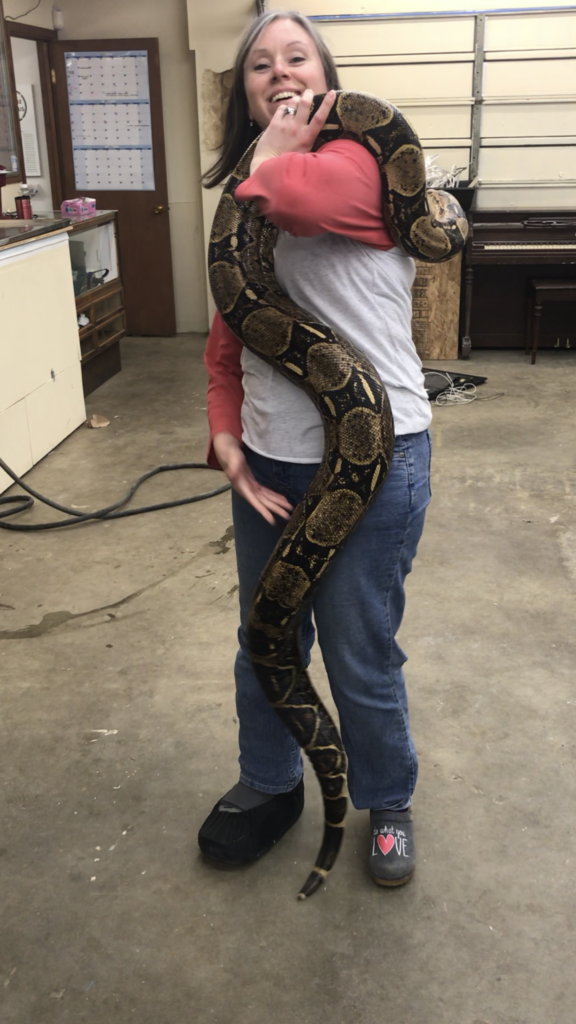 Adoption fee: $100
---
This is such a good looking boa! His markings are so clean. He is a very good eater and has taken well to hook training. We are confident that he will make a good pet for someone.
Adoption fee: $60
---
Oh my goodness! Just look how gorgeous this little lady is! We hope she will be able to find her forever home soon.
Adoption fee: $100
---
This gorgeous girls is quite social and calm. Her coloring has strong red hues making her a bit different from the normal bci's. She has a large scar on her nose that gives her a very cute button nose. This scar also causes the occasional change in her breaths sounds but doesn't seem to bother her at all.
Adoption fee: $100
---
This dude has some size to him and a heavy amount of food aggression. He is always hopeful that food is coming so hook training is needed to help him understand what is expected of him. He is well behaved once out of his enclosure but can be a bit of a booger before he comes out. Due to his size and his food drive he will need to be adopted by an experienced keeper.
---
This is a very rare boa! She was sold to her previous owner by a pet shop as a Pearl Island boa. We do not have her pedigree to prove her lineage however her scale counts are consistent with a pearl island boa. This is a dwarf locality that is very arboreal.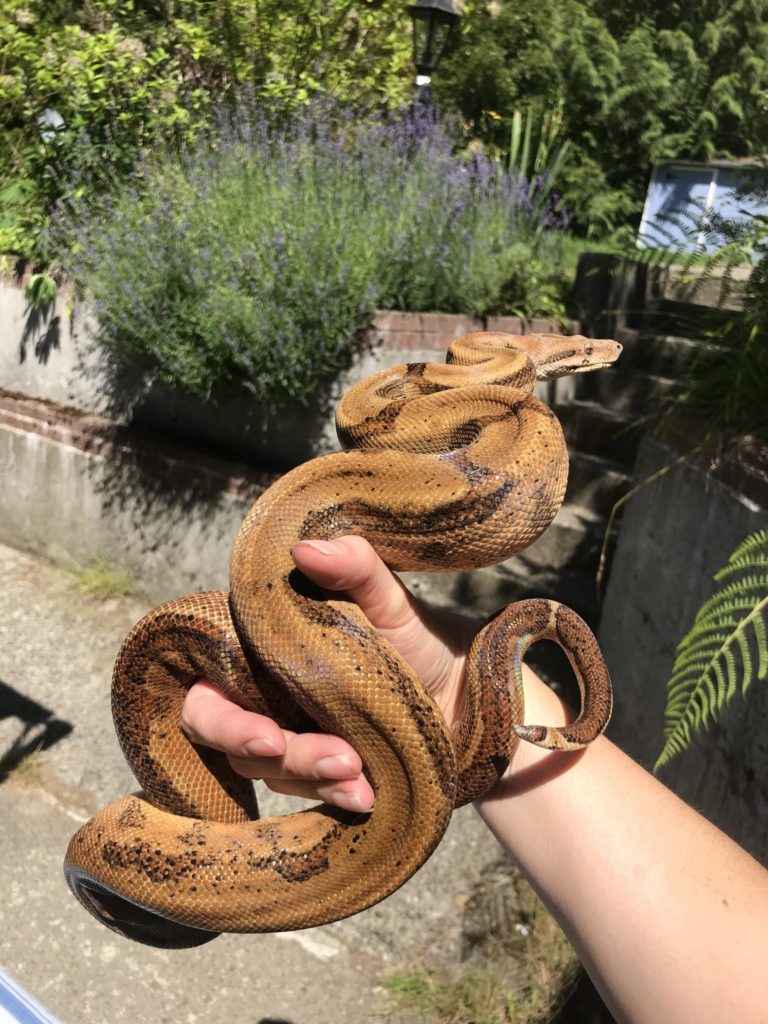 ---
Small Hypo Boa with spinal kink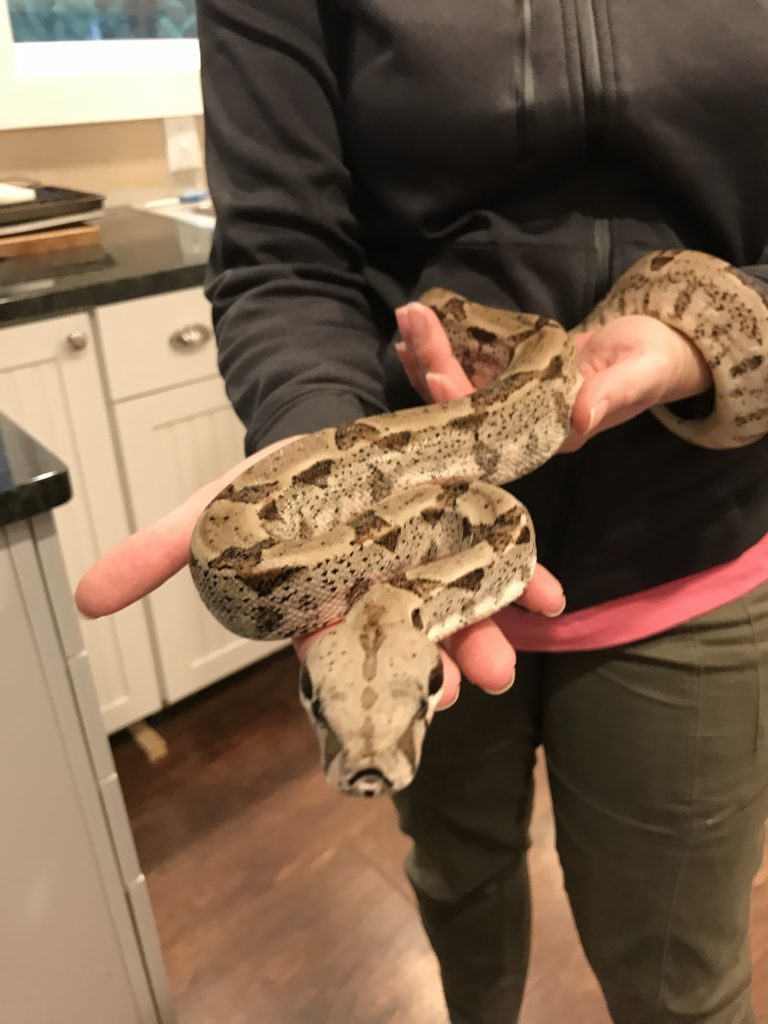 Adoption fee: $100
---
A central american boa that is the perfect size for someone who wants a boa but not a giant!
Picture coming soon
Adoption fee: $100
---
Another central american boa whom, this gorgeous little girl was very sick when she was surrendered. She has made a full recovery though and is doing great!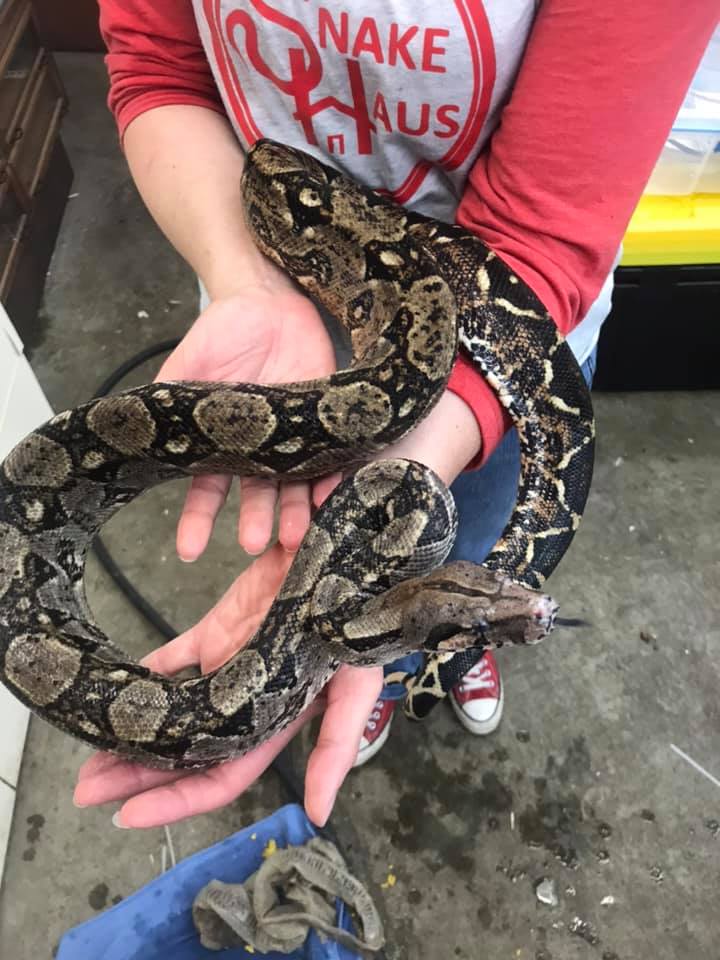 Adoption fee: $100
---
Corn Snake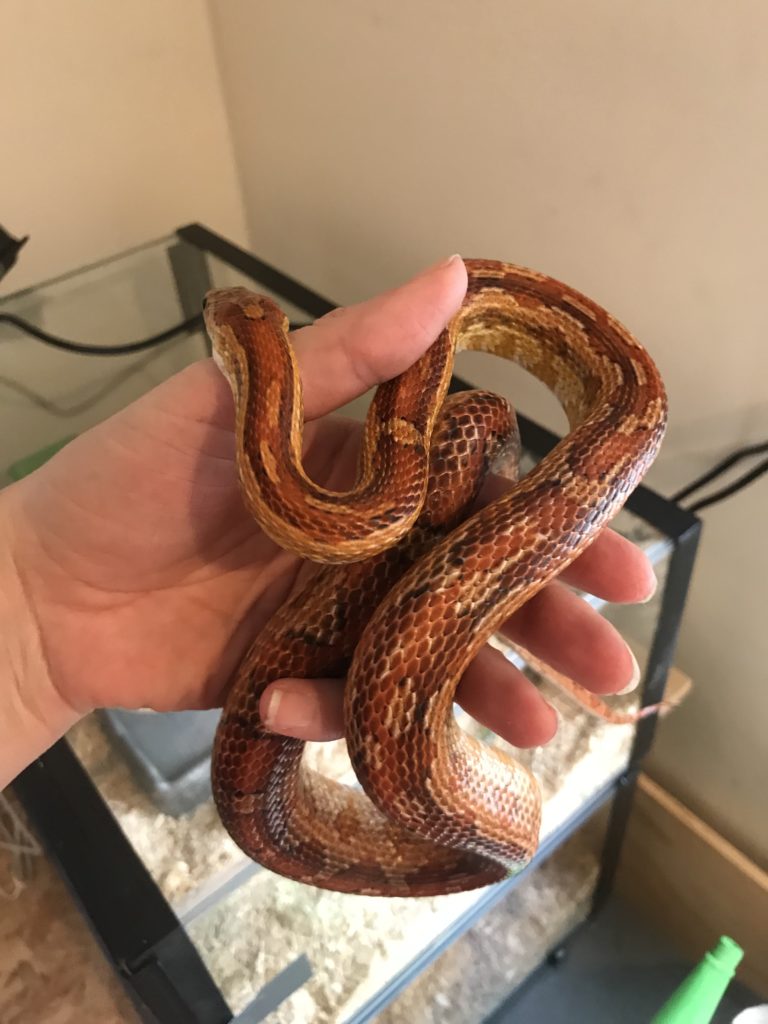 Adoption fee: $60
---
Indie is one heckuva a handsome fella! He is very social and loves to eat.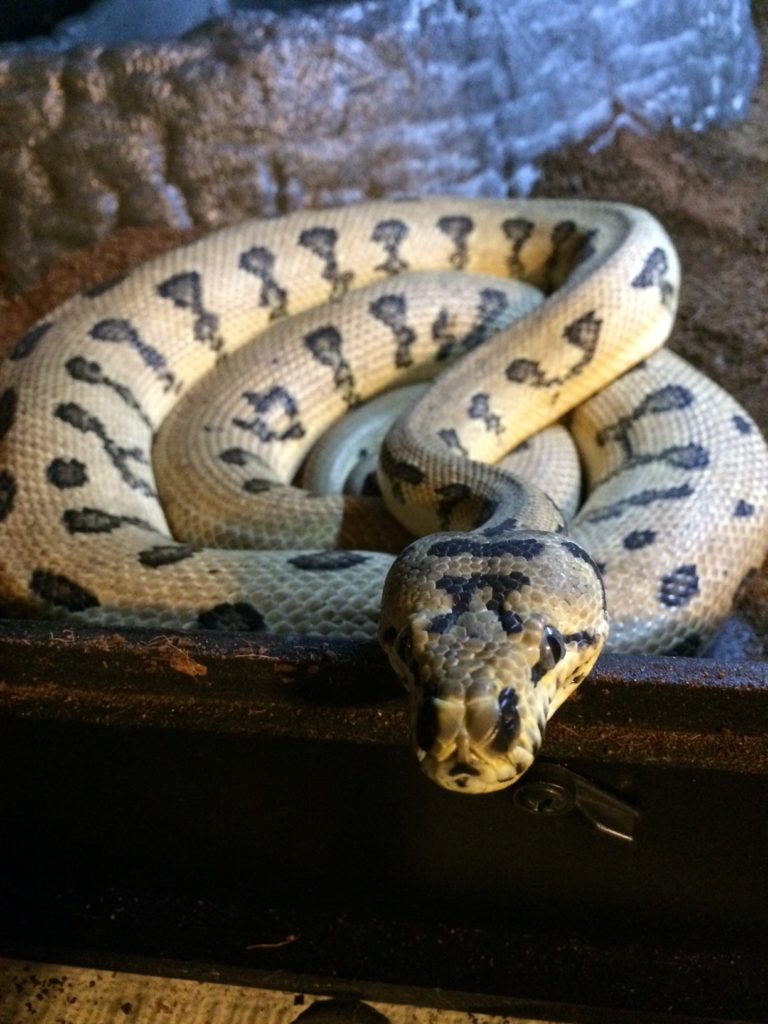 Adoption fee $200
---
A gorgeous young jungle with high yellow, Aria is a typical juvenile carpet python. She is a bit jumpy and nervous because she is still quite small. She eats like a champ though and is growing like a weed.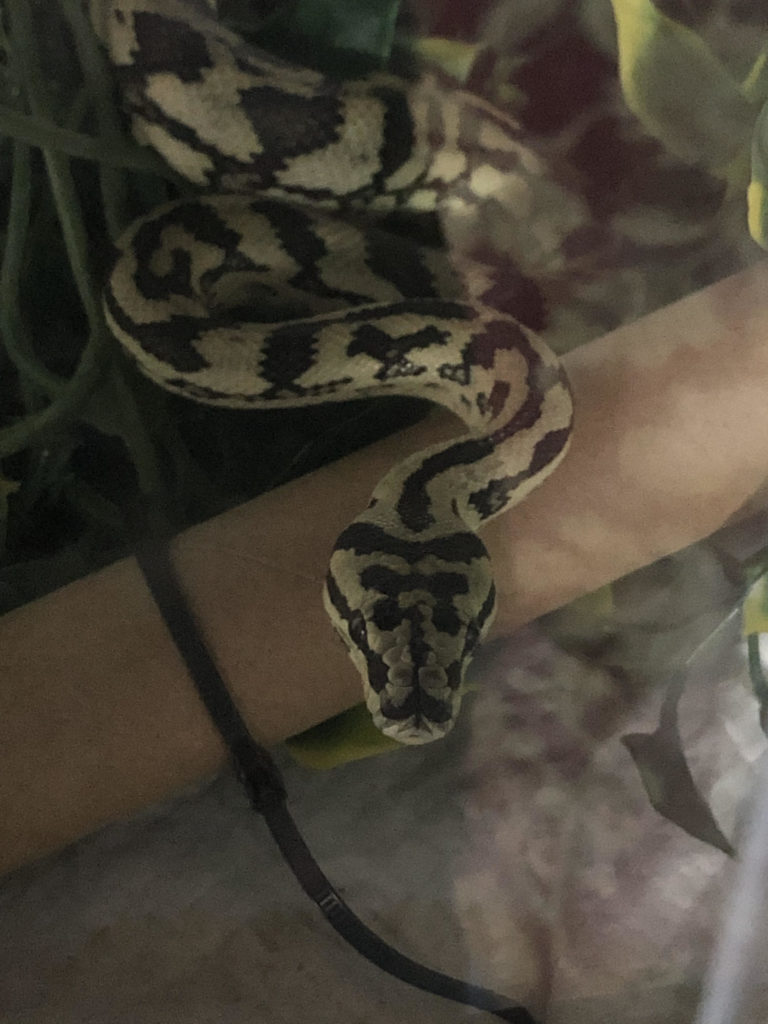 Adoption fee: $100
---
Albino reticulated python
This fella is so well behaved we feel like we're being selfish keeping him! We have decided to consider letting go if it's to the right home. He is near and dear to our hearts.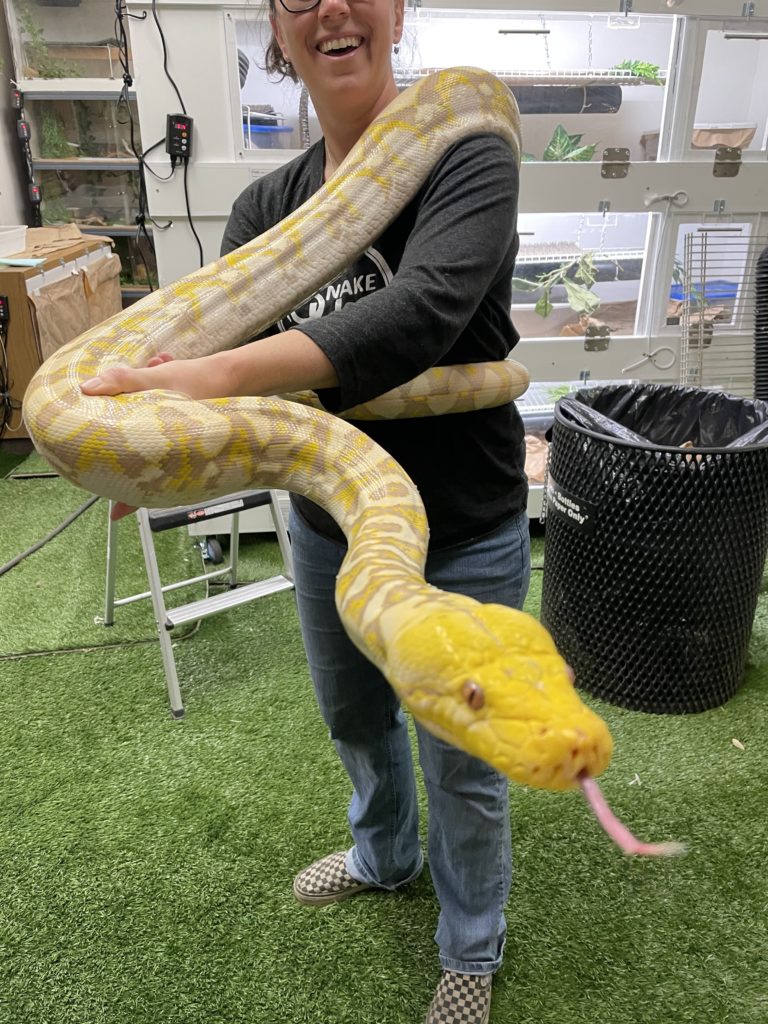 Adoption fee $200
---
Blood python
This is a old and very large female blood python. She was surrendered to us due to respiratory illness but has been doing well for a couple of years now. She does not like people so will only be allowed to go to a highly experienced home.
Adoption fee: $100
---
This poor kiddo was surrendered at a pet store with severe burns. A good Samaritan took him in and start treatment for his wounds. Due to his ordeal he is nervous of people but is learning to trust again. He has healed well but will always have severe scars from his wounds. He will need advanced keeper to help him continue learning that people are not scary. We will be very particular about husbandry requirements in his new home.
Adoption fee: $60
---
COMING SOON
We have several animals in quarantine that may become available once cleared. Availability pending quarantine and behavioral evaluation.
---
Kaa has been a Snake Haus friend for a few years ago. We took him in when he was very sick as a small baby. He is now strong and healthy. Kaa is very curious and social. He loves to climb so is very entertaining when out for handling.
---
Picture coming soon
Adoption fee: $100
---
Newt
A young Yellow Anaconda that needs significant work. He is undergoing hook training and socialization at Snake Haus in hopes of becoming eligible for adoption.
Picture coming soon
Successful Past Adoptions:
Zeus
Adoption Pending quarantine.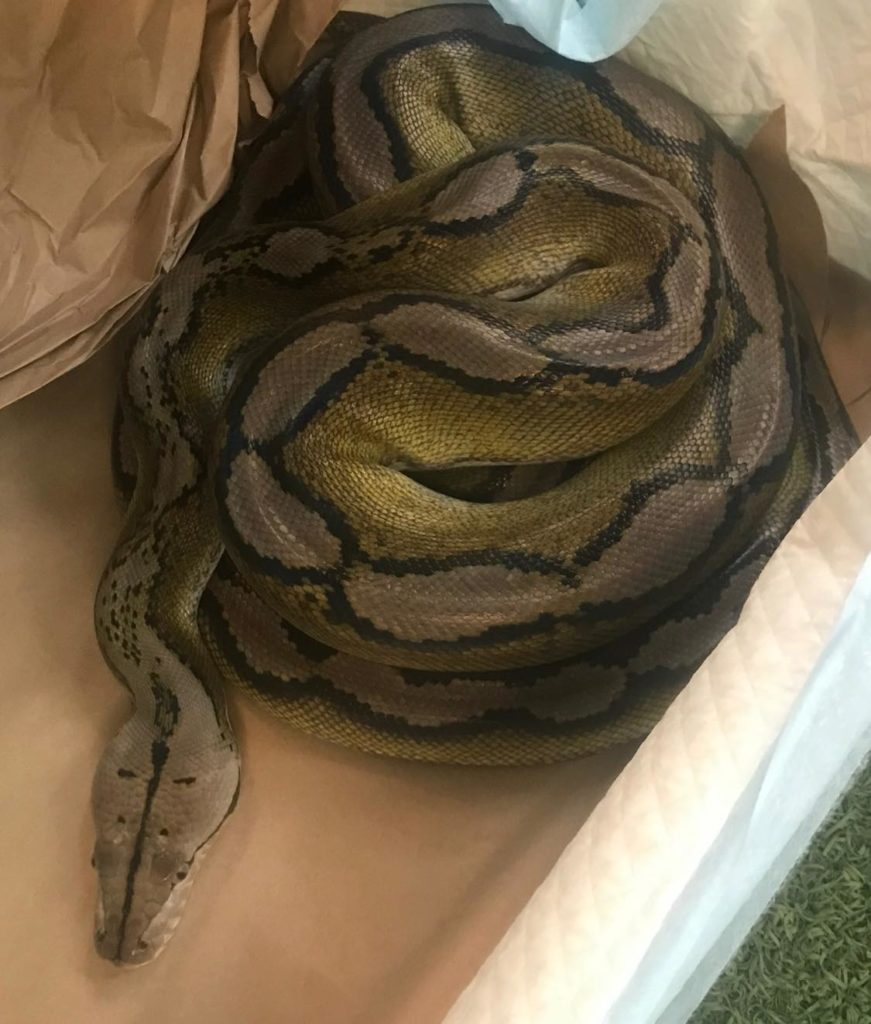 Dave
Box turtle
This little cutie was surrendered along with a ball python. He is quite the character and could make a wonderful pet for someone.
Adoption fee: $60
---
Male Columbian Boa
Adoption fee: $100
---
Male Columbian Boa – the guy is ancient! At more than 30 years old he will only be considered for adoption to the right home. He deserves a peacefull and quiet retirement!
Adoption fee: $100
---
Adopted by the Ford family 3/1/21
Pied ball python
---
Adopted by the Ford family 3/1/21
Snow ball python
Adopted by the Luddeman family 3/3/21
Banana ball python
---
Adopted by the Napier family
This little guy is doing very well. He has grown to be a calm and very handleable young gentleman!
---
Adopted by the Hanna family 11/6/20
Adopted by the Whalen family 11/9/20
Bill
Adopted by the Heard family
Male Columbian Boa- This handsome fella is so much fun! He loves to come out for exercise and socializing.
---
Glitch
Adopted by the Wynand family 6/27/20
Glitch is a part dwarf reticulated python. He is still young and learning how to be around people. He has a strong food response so hook training will be mandatory. He also get's a little bit scared when out for handling so you should be ok with someone that needs more work, training, and socialization.
---
Emma
Adopted by the Obst family
Female Dumeril's boa – this big beautiful girl is very food motivated and a bit shy. Otherwise she is very good.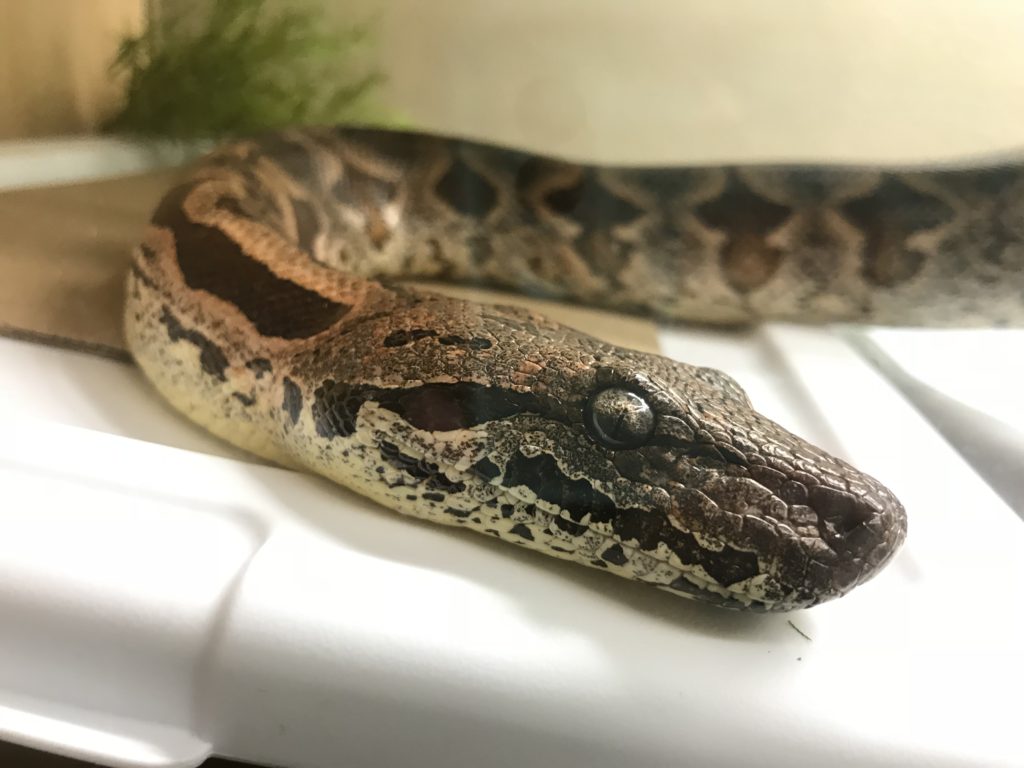 ---
Orellana
Adopted by the Lucia Family 4/5/2020
A young female burm who is growing into a strong and healthy adult. She had a slow start to life though so is a bit smaller than average for her age.
---
Eve
Adopted by the Lucia family 4/5/2020
Eve is shockingly small for a retic! She has a fierce appetite though and is growing fast.
---
Priest
Adopted by the Taylor family 2/10/2020
Caulker Cay Boa
---
Raja
Adopted by the Taylor family 2/10/2020
Caulker Cay Boa
---
Darwin
Male Dumeril's Boa
Adopted by the Steger family November 2019
---
Mystery
Adopted by the Wynand family.
Mixed BCC/BCI about 5.5 feet long
---
Junior
Adopted by the Surber family
Male Common Boa
Over 7 feet long
---
Hercules
Adopted by the Parmely family
Male Common Boa
Approximately 6 feet long
---
Wraith
Male Common Boa
Adopted by the Thomas family.
---
---