We have several animals that could be adopted out to the right home. You will be asked to provide photos of your enclosure, as well as complete an application and adoption agreement. This helps us get to know more about you and ensure that our animals are going to a good home and will not end up back in rescue.
We are happy to coach you through building and setting up an enclosure as well as help you choose the right animal for you and your family.
LOCAL ADOPTION ONLY – Washington and Western Idaho; we do NOT ship animals.
Snake Haus adoption fee differs according to the type of animal.
Our goals are to find excellent long-term homes for all snakes that are in need. Unfortunately, the color and size of some of these animals changes their worth in the eyes of many pet owners. Individuals with special genetics are often desired more than the normals. Yet breeding project produce far more normals.
We have chosen different adoption fees for animals with special genetics, or size, in an effort to help ensure these animals all have a fair chance at adoption.
$60 – Normal smaller species
$100 – Significant adult size (large normal boas, retics, or burms)
$200 – Special genetics: color morphs or dwarf species
$300 – Exceptionally rare or special individuals
Adoption fees and donations can be paid on the donation page.
---
We have TWO locations that specialize in different types of snakes. Snake Haus West manages all the giants but also has a few medium and small individuals. That's where you will find most of our boas and all of the retics, burms, and anacondas. Snake Haus East manages the "littles" so the colubrids and most of the ball pythons are there, although we have a couple of boas in the east, as well as a few ball pythons in the west. Follow the link below to see the animals at each location. Individuals can be transferred to and from either location if needed for adoption, but remember we do not ship!
Contact sara@snakehaus.com or nicky@snakehaus.com for questions regarding adoptions. You will be required to have enclosure set up and approved ahead of time. Approval is not guaranteed. We reserve the right to decline any adoption request if we feel it is not in the best interest of the animal.
---
Successful Past Adoptions:
Zeus
ADOPTED by the Ducatt family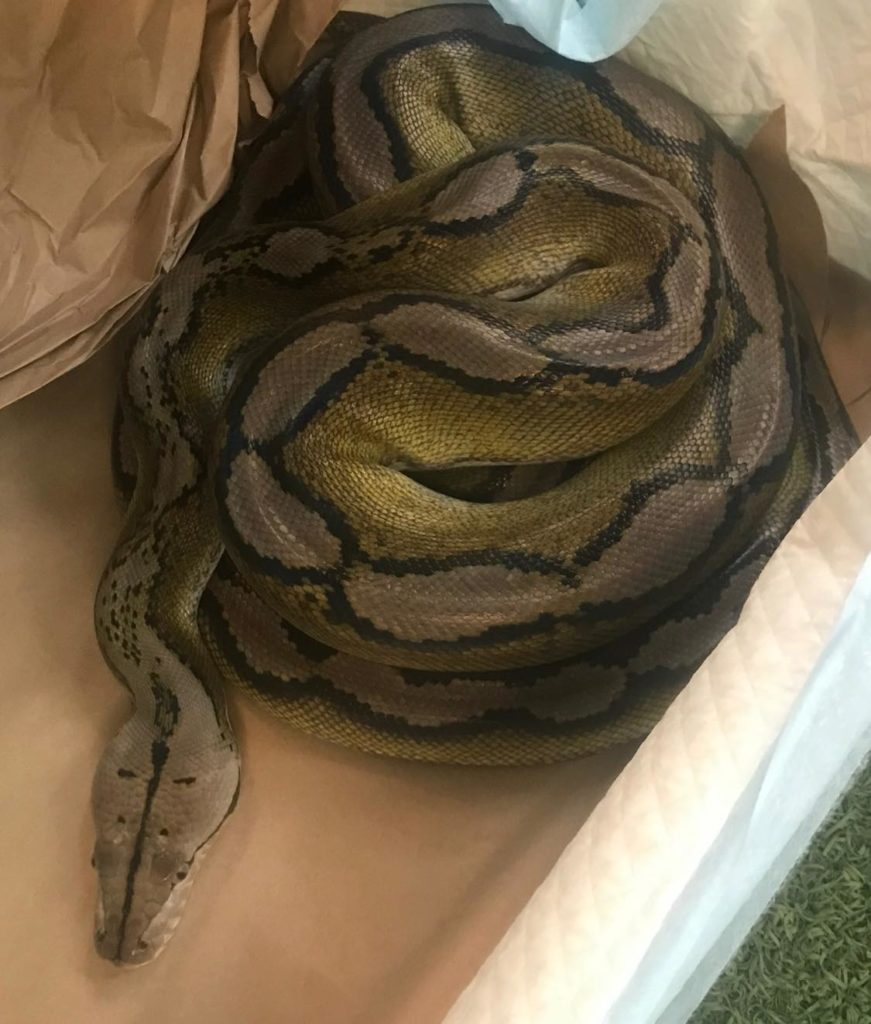 Dave
Box turtle
ADOPTED by the King family
---
Male Columbian Boa
---
Male Columbian Boa – the guy is ancient! At more than 30 years old he will only be considered for adoption to the right home. He deserves a peacefull and quiet retirement!
---
Adopted by the Ford family 3/1/21
Pied ball python
---
Adopted by the Ford family 3/1/21
Snow ball python
Adopted by the Luddeman family 3/3/21
Banana ball python
---
Adopted by the Napier family
This little guy is doing very well. He has grown to be a calm and very handleable young gentleman!
---
Adopted by the Hanna family 11/6/20
Adopted by the Whalen family 11/9/20
Bill
Adopted by the Heard family
Male Columbian Boa- This handsome fella is so much fun! He loves to come out for exercise and socializing.
---
Glitch
Adopted by the Wynand family 6/27/20
Glitch is a part dwarf reticulated python. He is still young and learning how to be around people. He has a strong food response so hook training will be mandatory. He also get's a little bit scared when out for handling so you should be ok with someone that needs more work, training, and socialization.
---
Emma
Adopted by the Obst family
Female Dumeril's boa – this big beautiful girl is very food motivated and a bit shy. Otherwise she is very good.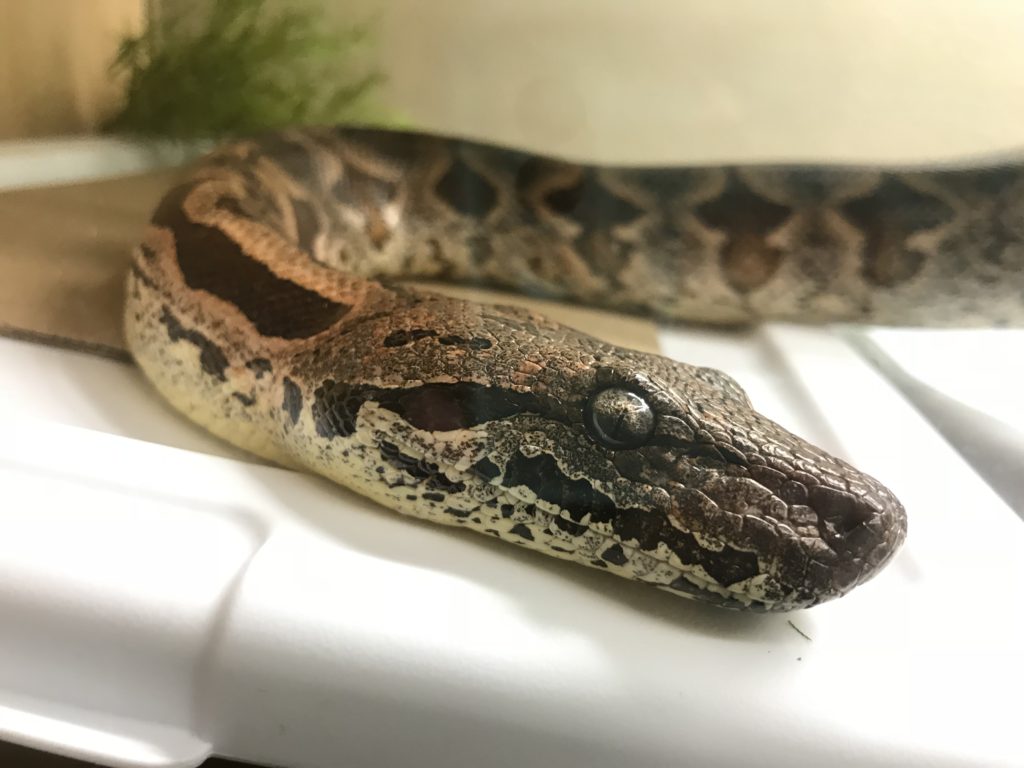 ---
Orellana
Adopted by the Lucia Family 4/5/2020
A young female burm who is growing into a strong and healthy adult. She had a slow start to life though so is a bit smaller than average for her age.
---
Eve
Adopted by the Lucia family 4/5/2020
Eve is shockingly small for a retic! She has a fierce appetite though and is growing fast.
---
Priest
Adopted by the Taylor family 2/10/2020
Caulker Cay Boa
---
Raja
Adopted by the Taylor family 2/10/2020
Caulker Cay Boa
---
Darwin
Male Dumeril's Boa
Adopted by the Steger family November 2019
---
Mystery
Adopted by the Wynand family.
Mixed BCC/BCI about 5.5 feet long
---
Junior
Adopted by the Surber family
Male Common Boa
Over 7 feet long
---
Hercules
Adopted by the Parmely family
Male Common Boa
Approximately 6 feet long
---
Wraith
Male Common Boa
Adopted by the Thomas family.
---
---