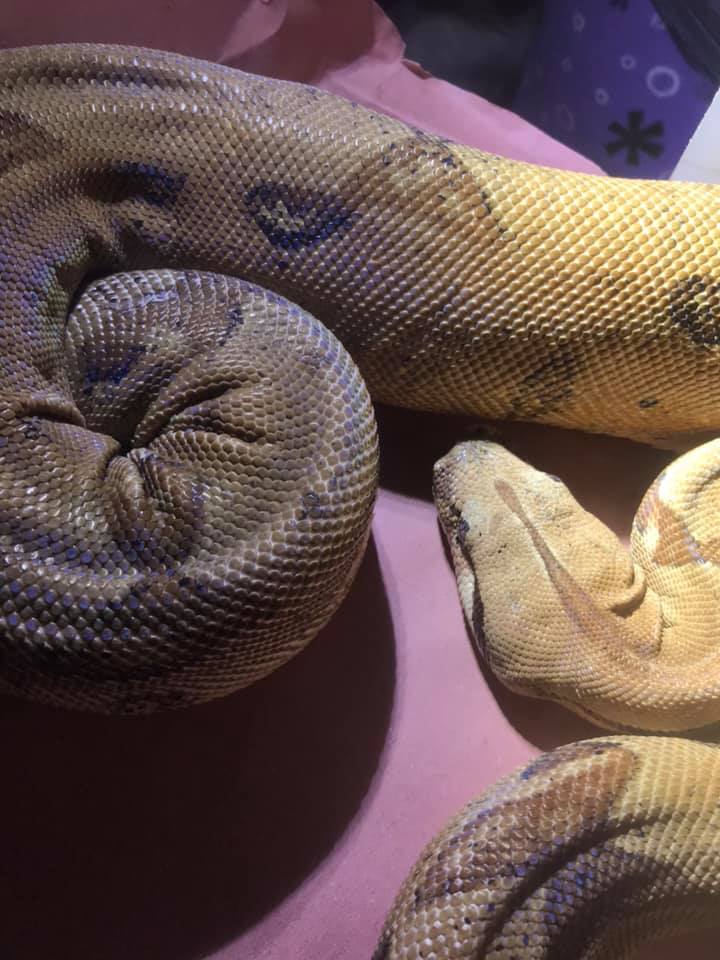 A friend asked for help with another severely injured snake. This one is a boa that has had a progressing non-healing facial wound for a year. This lesion is quite destructive and he is missing a lot of tissue. At the very least he will be deformed/scarred for life. At the worst this could be cancer and therefor not survivable. We'll give him a chance and see what we can do. Wish him luck guys because he's going to need it for sure.
---
Tony's wound is healing slowly. As the swelling subside we are gently removing damaged and loose teeth that were stuck within the wound. As he heals he is moving a bit more normally. However he really has a long way to go.
Tony hates getting his treatments, I believe, because his treatments before we got him were painful. Because of this I have been extra careful about being gentle with his handling.
It has been a struggle to keep his hydration up. I believe Tony has been avoiding drinking water because of the pain of his wound but I discovered a new technique for getting him to drink water. After his injection, I coat the wound in Silvadene cream which is cool and very soothing – this is a burn cream used in human medicine. He visibly relaxes after the cream goes on. The cream protects the wound from air and water which are both painful. Then I slowly place him into the warm water backwards. Once he realizes what I am doing he lowers the back of his head down into the water until the sides of his mouth are under water but the wound is above the water.
He drinks water through the back sides of his mouth! Watch this video to see him drinking this way.
We are saddened to report that Tony's symptoms continued to worsen and progress despite treatment. He was humanely euthanized to prevent further suffering.